Sign up today for Summer Camp 2023!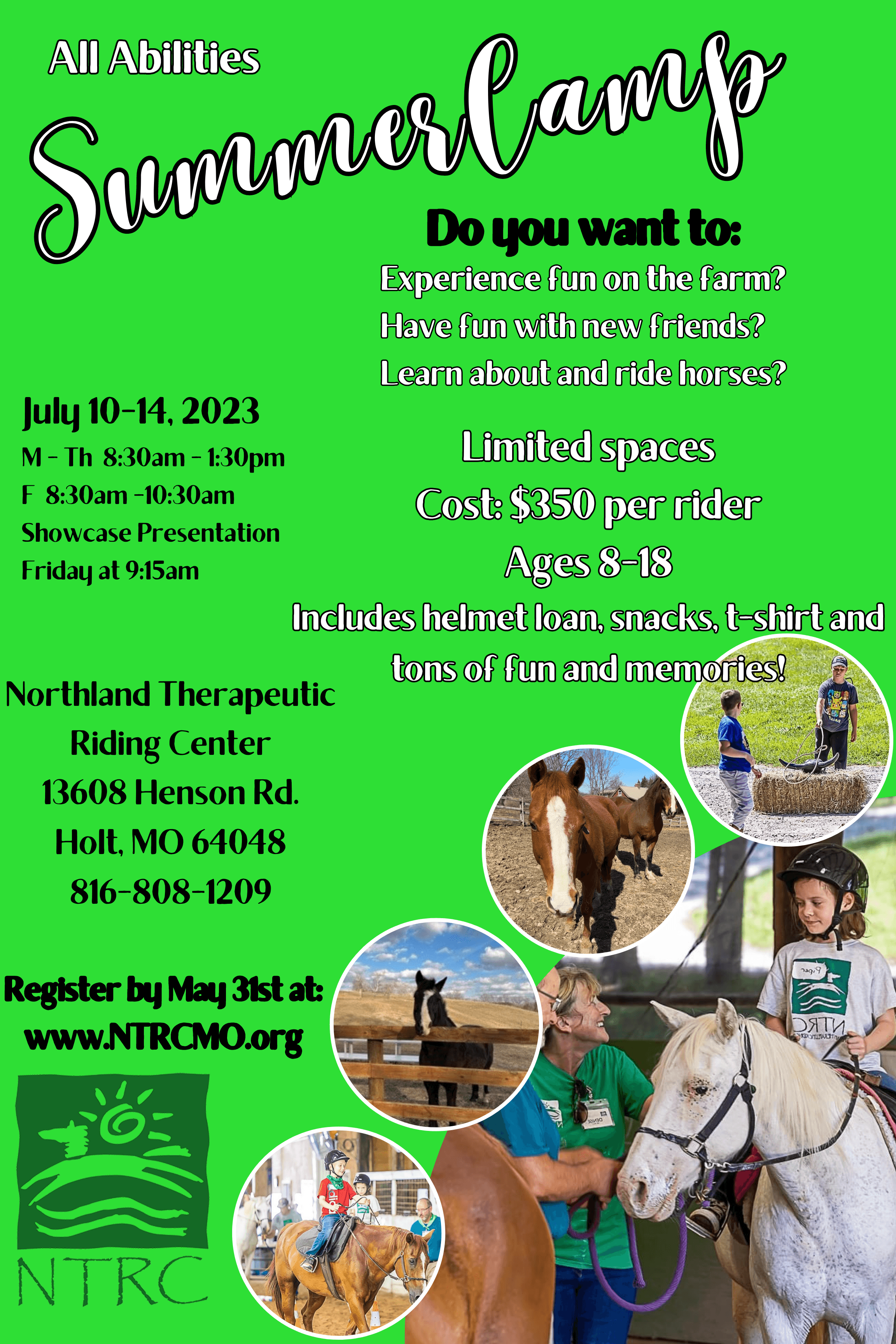 Join us for a week of fun! This camp is for ages 8-18, of all abilities! Be prepared for arts and crafts, trail rides, horse care and safety, trivia, games and more! Sign up quick! Limited spots available! 
CAMP DATES:
July 10th-July 13th 8:30am-1:30pm
July 14th 8:30am-10:30am **PARENTS**Please plan on arriving early for pick up this day! We will host our Student Showcase at 9:15am sharp! At this time your kids will be able to share with you all of the fun they've had and show off their new skills!
CAMP LOCATION:
13608 Henson Rd.
Holt, MO 64048
If you've never been to NTRC's property before...We share a driveway! Follow the driveway all the way until you come to the one-way sign. Follow the one way sign up the hill and around down to the barn. Camp will meet at the big red barn unless otherwise instructed once you're here. 
NTRC WILL PROVIDE:
Snacks
Drinks
Helmets (to be used during the week and returned after camp)
Camp T-Shirt
YOU PROVIDE:
Your camper who is ready to have fun and learn!
A cold sack lunch each day (sorry, we cannot heat up lunches)
CAMPER REQUIREMENTS:
A camper willing to wear required safety equipment, including:
Helmet
Closed toe shoes (tennis shoes or boots)
Long pants (STRONGLY RECOMMENDED)
Have the ability to refrain from inappropriate behaviors (including but not limited to spitting, hitting, kicking, foul language, etc)
CAMP COSTS/DEADLINES:
$350 per camper
$50 deposit due when application is submitted (deposit is applied to total camp fee)
Remaining $300 balance is due no later than May 31st and entire $350 becomes non-refundable after this point.
Please return your completed application by mail to:
NTRC
PO Box 1267
Kearney, MO 64060
or if you are comfortable emailing them, please email to ntrcoffice@gmail.com
Once your application has been approved you will be emailed a full registration packet which must be filled out completely and returned with your final payment by May 31st. Please note there are TWO medical forms that must be filled out completely and signed by your physician for the packet to be complete. 
INCOMPLETE APPLICATIONS WILL NOT BE ACCEPTED.
*Please note, while the curriculum is geared towards ages 8-18, those outside of that age range may be considered on a case-by-case basis. 
*We work to accommodate people of all abilities. However, if we feel that we cannot safely meet your child's needs, we will let you know and return your deposit. You will be notified by email within 2 weeks of application if this is the case.
*We intend to offer spots on a first come first serve basis. If we fill up after you send your application, your deposit will be returned to you.
Questions? Email ntrcoffice@gmail.com