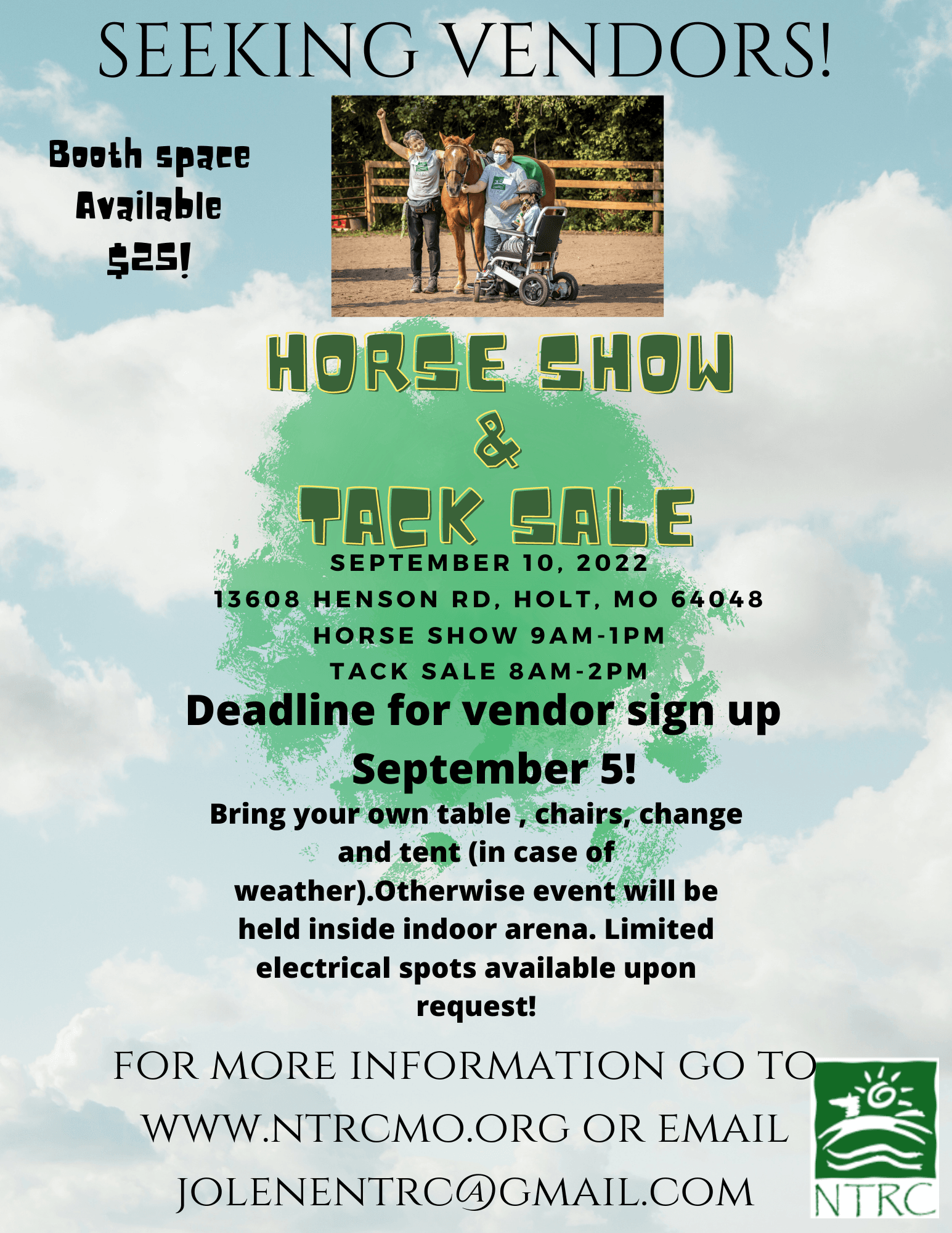 Thank you for your interest in NTRC's Annual Horse Show and Tack Sale! Each year hundreds of people come to the farm for this event and we're so glad you'd like to be a part of it!
BOOTH INFORMATION:
DATE: SEPTEMBER 10, 2022 8am-2pm
WHERE: NTRC, 13608 HENSON RD, HOLT, MO 64048
COST: $25 (MUST PAY ONLINE BEFORE BY SEPTEMBER 5TH TO GUARANTEE A SPOT) FOR A 10X10 SPACE TO SELL YOUR GOODS!
WHAT YOU CAN SELL: ANY EQUINE RELATED ITEMS, TACK, OR OTHER FARM GOODS, HANDMADE ITEMS, ETC. LIMITED NUMBER OF DIRECT SALES WILL BE ACCEPTED-PLEASE EMAIL JOLENENTRC@GMAIL.COM BEFORE SIGNING UP IF YOU'RE UNSURE ABOUT YOUR SALE ITEMS.
SET UP: MORNING OF EVENT. YOU WILL BE CONTACTED AFTER SIGNED UP WITH FIRM DETAILS, BUT EVENT BEGINS AT 8. SET UP MUST BE COMPLETE BY 7:30. WE DO PLAN TO SET UP IN THE INDOOR ARENA, HOWEVER, THIS IS SUBJECT TO CHANGE DEPENDING ON WEATHER CONDITIONS. THE EVENT IS RAIN OR SHINE!
WHAT TO BRING: CHAIRS, TABLES, CHANGE, LUNCH (OR LUNCH MONEY!), TENT (IN CASE OF INCLEMENT WEATHER)
LIMITED ELECTRICAL SPOTS ARE AVAILABLE, PLEASE LET US KNOW WELL IN ADVANCE IF YOU REQUIRE ELECTRICITY!
IF YOU HAVE ANY QUESTIONS AT ALL, PLEASE DO NOT HESITATE TO REACH OUT TO US!
MICHELLE (BUSINESS MANAGER) NTRCOFFICE@GMAIL.COM
JOLENE (VENDOR CONTACT) JOLENENTRC@GMAIL.COM